Nettify Cast™ – Hotel Casting Solutions
Automatic device pairing.  Instant screen casting.  No QR codes.  No user login credentials.  Any TV supported.  No IPTV or STB needed. Nettify Cast is a revolutionary Bring-Your-Own-Content casting solution for hotels, powered by Google Chromecast®. It allows guests to connect their phones, tablets and laptops instantly and wirelessly to any kind of TV and enjoy their own content and subscriptions like Netflix via the hotel's existing Wi-Fi.


Guests are usually unimpressed with hotels' content offering, but they like the bigger screen of hotel TVs.
Vice versa, guests love their own content but are unhappy with their devices' screen size.
Nettify Cast solves this!
Guests Love
Instant screen casting to hotel TV thanks to automatic device pairing –

no PIN or QR code needed!

Watching their own (Netflix) subscriptions on a room TV

2000+ cast enabled apps

, including TV channels & games
No account logins, logouts, or passwords to type
Using their phone instead of unsafe remote control
No app download to make it work
None of their watched content history is being stored
The ability to use their device for other tasks while casting
Connecting

multiple devices to the same TV simultaneously, e.g. for multiplayer games

The ability to connect to any of the multiple TVs available in a suite or villa
Fantastic picture quality
Ease of use
Total privacy and data security
Hotels Love
Budget-friendly in-room entertainment system

No need for expensive IPTV systems

ROI protection: no need to replace your TVs 

ROI protection: we'll use your existing Wi-Fi network

The ability to decrease TV channels offering

To provide a hygienic alternative to remote controls

24/7 Chromecast monitoring and management

No operational issues with guest user accounts

No set-top-box with yet another remote control

Anti-theft lock of the Chromecast dongle

The WOW! effect this new technology brings

Full hotel branding

Quick & easy deployment, no cabling needed

24/7 access to our support team

Significant competitive advantage

Flexible business models

And we didn't just stop there! Nettify Cast offers…
Hotel Infotainment
Keep guests informed about your hotel, events, neighbourhood or destination.
Secure wireless sharing of PowerPoint slides and any other files via projectors, LED panels and presentation TVs. No more HDMI cable issues, all types of devices are supported.
Customised Welcome Message
Greet your guests with a personal touch on an entirely hotel-branded screen layout.
…and many, many more features.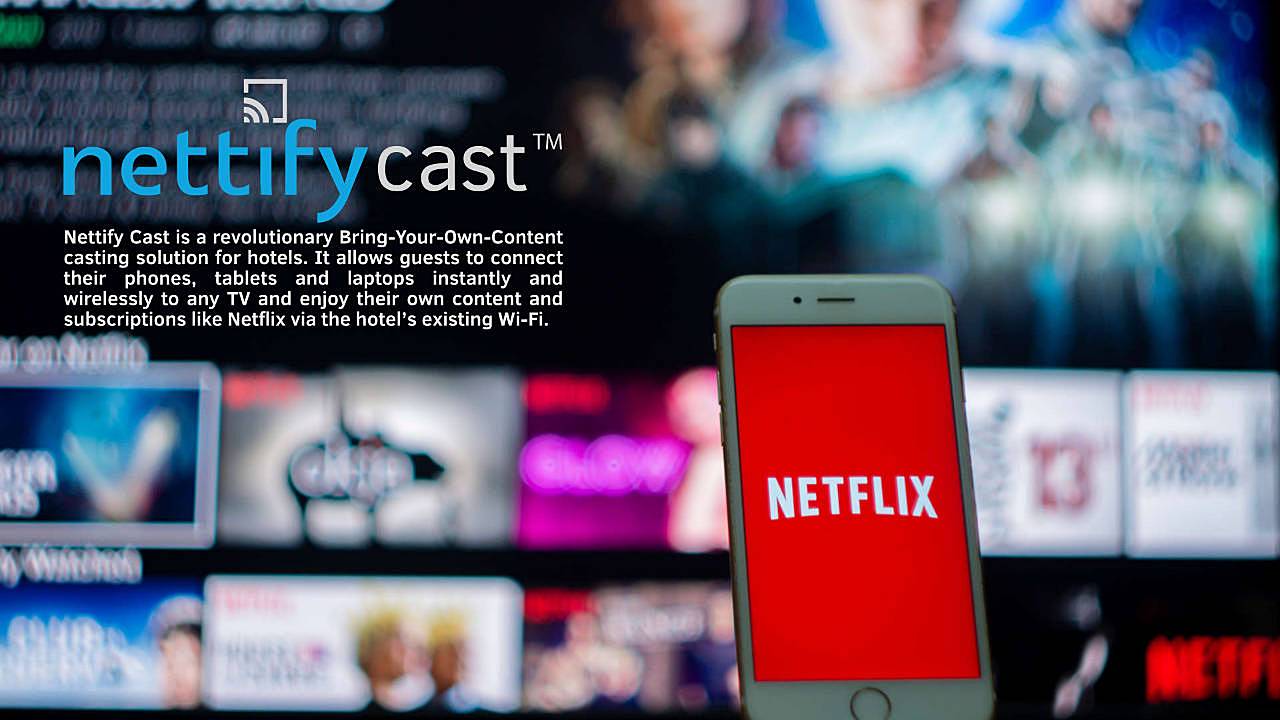 Supported Content
Full HD & 4K resolution
Photos
Videos
TV Channels
Music
Games
Podcasts
HTML Content
Radio Channels
Files – PDF, PowerPoint, Excel etc.
and more!
Supported TVs
Any type of TV
Any type of LED panel
Any type of projector
Any type of monitor
Supported Operating Systems
iOS
Android
Windows
macOS
Chrome OS
Linux
Turn your TVs into an infotainment centre and guests' phones into a remote control.
FAQ – Your Questions Answered
Can guests see or connect to other guests' TVs?
No. We have developed all our Nettify Cast solutions specifically for hotels and the hospitality industry and guarantee 100% guest privacy protection, including data about watched content.
Do we need a smart TV?
No! Not only are smart TVs not needed, but they are not recommended. Smart TVs, including hospitality smart TVs, have apps like Netflix installed on them, and guests must log in to each and every app they wish to use first. That exposes their credentials because smart TVs lack any user account management.
If a guest forgets to log out, the next guest can use their Netflix or YouTube account, which creates substantial operational issues and guest dissatisfaction. It also makes the hotel GDPR or CCPA non-compliant.
Save your investment; Nettify Cast will make your TVs smart, regardless of their type, model, or brand.
Do guests have to log in and out of their apps when using Nettify Cast?
No. For screen casting, guests use their phones where they are permanently logged in to all their apps. Therefore, no login credentials are required, sent or stored in our system, offering total privacy protection. Additionally, no special app is needed to use our advanced screen casting for hotels.
Can screen casting solution replace hotel IPTV?
Absolutely! Not only it can, but it will. Hospitality IPTV is already an outdated concept whose cost, network and energy inefficiencies will seal its fate. Many hotels still have IPTV systems as a standard, but that is changing fast. International hotel chains are working on guest casting as the new in-room entertainment streaming standard while casting solutions for hotels further evolve.
Nettify Cast is already a great alternative to hospitality IPTV systems. Contact us for details.
Can your casting solution for hotels be added to our IPTV?
Yes! If your hotel IPTV lacks casting or your IPTV provider asks for the casting feature too much, you can absolutely use our screen casting for hotels instead. Contact us for a quote.
Will we need to upgrade our access points or switches?
No. Nettify Cast is a fully hardware-independent solution requiring no special hardware features. It works well with high-end as well as budget networking equipment. We will only make sure all guest rooms have sufficient Wi-Fi coverage and help you to improve it wherever the signal is weak.
What's the difference between casting and mirroring?
In short, mirroring shows the entire phone, tablet or laptop screen on the TV, with all the drawbacks such an approach brings — the inability to use the device while watching a movie, disruptions from incoming calls, messages and notifications, and loss of privacy. On the other hand, mirroring allows users to watch content from apps that do not support casting or use the in-room TV as a large monitor.
Casting, on the contrary, removes all the above disadvantages by only displaying the content guests want to be shown while allowing them to continue using their devices without any disruptions to the watched content.
And now the best part — Nettify Cast supports both — screen casting and mirroring. 🙂