Nettify IPTVcast™ – Innovative Hotel IPTV Solutions
Live TV. Casting. Entertainment. TV Ads. Dining. TV Messages. Works with any TV. No Set-Top-Box. Revolutionize your guests' entertainment experience with Nettify IPTVcast, a cutting-edge, hybrid, and lightweight hotel IPTV solution with casting designed for seamless integration and unparalleled flexibility. Compatible with any TV, Nettify IPTVcast elevates guest satisfaction by providing a personalized and interactive TV experience that caters to modern traveler's needs and is easy to use for less tech-savvy guests.

Hybrid Serverless Technology
Reduce infrastructure costs and enjoy easy scalability with our state-of-the-art hybrid hotel IPTV solutions, combining on-premise and cloud technology to bring the best of both worlds. No expensive, power-hungry servers or streamers are needed.
TV-Agnostic Solution
Smart or traditional TV, hospitality or consumer-grade, our IPTV solutions cover them all. Don't waste your money on unnecessary TV upgrades.
Universal Wireless & Wired Solution
If cabling is an issue, don't worry. We have a fully wireless solution that will run on your existing WiFi network.
All the great features from Nettify Cast are part of the Nettify IPTVcast hospitality solution.
TV Channel-Independent
Supports all sources of TV channels – OTT apps, multicast, cable, satellite or terrestrial, digital or analogue.
In-Room Digital Signage
Upsell your services and let guests know about special events and promotions at the right time.
Fast & Easy Integration
Nettify IPTVcast can be easily integrated with the hotel's existing network infrastructure, reducing the need for additional cabling or equipment.
PMS/POS-Based Automatizations
Greet your guests with personalized welcome messages and target specific guest groups with tailored visuals, offers, and announcements. Automatize orders.
Economic & Ecologic Tech
We have deployed the latest technologies to save your resources and streamline your operations.
Easy Navigation
Our intuitive interface ensures that guests of all ages can easily navigate through channels and on-demand content.
Convert your (smart) consumer TVs into smart hospitality TVs.
Manage multiple properties from anywhere around the world.
Cut the cord on often expensive, low-quality TV channels and embrace the new era of TV channel distribution with cost-effective OTT apps for a superior guest experience.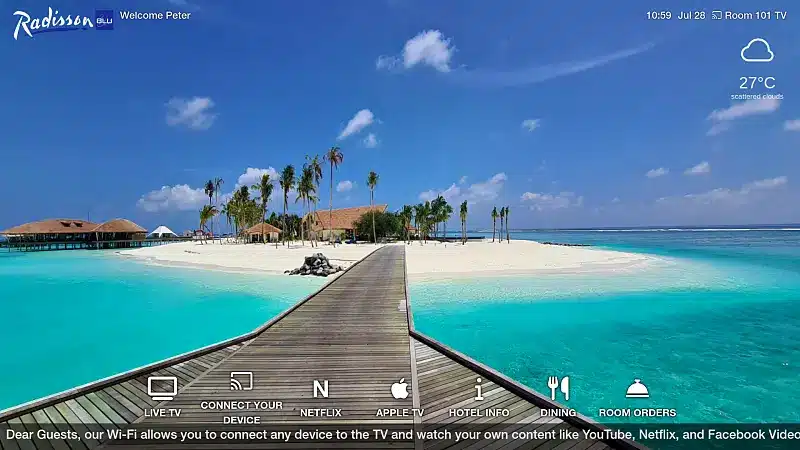 Welcome Screen and Message
Greet your guests in style with automatically personalized greetings and messages.
TV Messages
Reach your guests directly via global, group, or private messages.
TV Ads
Upsell your services and broadcast your latest events and promotions.
In-Room Dining
Entice guests with picture perfect menu and let them order whatever they desire.
Hotel E-shop
Sell third-party products with Amazon-like convenience and speed, and keep your guests spending in-house.
Guest Services
From cleanup requests to room orders to hotel e-shop, improve the guest experience and your revenues.
View Bill
Keep guests in full control over their spending and eliminate unwanted surprises.
Hotel Directory
Get rid of printed hotel directories and start updating hotel information in real-time.
Branding & Customisation
Stand out with limitless design & layout options and comply with brand standards.
Order Management
Get orders directly to your POS and keep track of each order live.
TV Ads Campaign Planner
Upsell your services and inform guests about special events and promotions at the right time.
Content Management
Manage content from any browser on any device from anywhere in the world. All content is stored locally!
TV Channel Line-Up Management
Sort your TV channels according to your standards or preferences.
Redundancy and Real-Time Back-Up
Keep most of the services running even without internet connectivity.
Statistics & Analytics
Analyze usage of IPTV services and optimize generated revenues.
Weather Forecast
Current weather and a multi-day forecast for various destinations.
Flight Info
Current exchange rates, the latest news and more.
Date & Time
Date and local time and major time zones displayed.
…and many, many more features.
Supported Content
Full HD & 4K resolution
Photos
Videos
TV Channels
Music
Games
Podcasts
HTML Content
Radio Channels
Files – PDF, PowerPoint, Excel etc.
and more!
Supported TVs
TV – any type
LED panel – any type
Projector – any type
Monitor – any type
Supported Operating Systems
iOS
Android
Windows
macOS
Chrome OS
Linux
FAQ – Your Questions Answered
What is a hybrid hotel IPTV system?
A hybrid hotel IPTV system is a solution that combines cloud technology to deliver TV and video content to hotel guests, with on-premise local storage of content to increase its responsiveness while eliminating unnecessary bandwidth consumption. It removes costly on-site hardware and enables easy management, scalability, and customization.
How do hybrid hotel IPTV solutions differ from traditional hotel TV systems?
Traditional hotel TV systems rely on expensive on-site hardware and infrastructure and usually require a complete upgrade of TVs and the guest network. Hybrid hotel IPTV solutions are hosted both on-premise and in the cloud, reducing infrastructure costs, improving performance, streamlining updates, and making it easier and cheaper to scale and customize as needed.
Is your hybrid hotel IPTV system compatible with my existing hotel infrastructure?
Yes. Nettify IPTVcast is designed to integrate seamlessly with your existing hotel infrastructure. It supports all types of TVs, whether hospitality or consumer, smart or traditional TV. It runs on any network hardware and can integrate with any Property Management System (PMS) and Point of Sale (POS). This ensures a smooth transition and minimal disruption to your hotel's operations.
How does your hybrid hotel IPTV solution affects my hotel's internet bandwidth?
Nettify IPTVcast supports adaptive streaming technology to optimize video quality and bandwidth usage. Although the system requires a stable internet connection, it is designed to minimize the impact on your bandwidth consumption and hotel's network performance. Unlike traditional IPTV systems, it doesn't require high-end expensive hardware.
What is an OTT app?
OTT stands for "over-the-top," and it refers to apps or services that deliver video content over the internet without requiring a cable or satellite TV subscription. In the context of hospitality in-room entertainment and TV channel distribution, OTT apps allow hotels to offer guests a wider range of TV channels and on-demand content at a much more affordable price compared to traditional cable or satellite TV packages.
How do OTT apps work?
OTT apps work by streaming video content over the internet. Guests can easily access the app through Nettify IPTVcast and browse and select from a wide range of TV channels and on-demand content.
What are the benefits of using an OTT app for TV channel distribution?
Using an OTT app for TV channel distribution offers several benefits, including cost savings, higher picture quality, and a wider range of TV channel options. By using an OTT app, hotels can provide guests with a more affordable source of TV channels that includes national, international and premium channels at full digital quality, compared to traditional cable or satellite TV packages.
Is there any Set-Top-Box placed in the guest room?
No visible device is placed in guest rooms, so your room design will not be negatively affected.
Can I customize the content and channels available to my guests?
Absolutely! Our hotel IPTV solutions let your team manage all sections and content, including dining, guest services, and TV channel lineup, to cater to your guests' preferences and demographics.
What kind of devices can guests use to access the IPTV system?
Guests can access the IPTV system and menu using a remote control, but they can also cast or mirror content from their smartphones, tablets, and laptops to the TV for a seamless, multi-device experience.
How much does Nettify IPTVcast solution cost?
The cost of our hotel IPTV solutions varies depending on the size of the hotel and the type of TV used. However, our solutions are way more cost-effective than traditional hotel TV systems, as they reduce infrastructure and maintenance expenses. Reach out to us for a customized quote based on your hotel's needs.